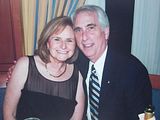 Jeanne and Steve Toovell, both with teaching backgrounds, come into their Shaklee business with a passion to help and make a difference in the lives of others. Steve was introduced to Shaklee nutritional products because of lingering medical problems, After just a couple of weeks, he felt the benefits of the products. Jeanne, the daughter of struggling immigrants, has developed a tremendous work ethic and understands the hardships that some people face everyday. Shortly thereafter, both Jeanne and Steve decided that they had to tell others about their new found health, energy and opportunity. They realized that the company they were to partner with, Shaklee, was a company of trust, integrity, innovative products, with a history of sixty years of stability. In all the years of operation, Shaklee has always paid their distributors. The Toovells have also developed a strong relationship with the company's owner, Roger Barnett, who has a long term vision for the future to grow globally and make Shaklee a household brand.
Since making that decision, the Toovells have experienced more than an improvement in their personal health.They realized that they could earn benefits that were not available to them through their teaching positions. Both Jeanne and Steve have a love and passion to teach others. The Shaklee Opportunity provides them with a way to use their mentoring skills to do just that.
By teaching and training others to build successful business teams, the Toovells have built a solid future for their family. Jeanne and Steve, have trained thousands of distributors from the U.S. to Canada to Japan. Earning a very healthy six figure income, their Shaklee income surpasses what each earned as a public school teacher.
Today as Senior Master Coordinators, one of the highest levels of achievement, they lead one of the largest teams in the company and have helped thousands of families attain optimum health and financial security. Their team is made up of a diverse group of wonderful people; both young and mature, bilingual, from different ethnic and educational backgrounds. A group of ordinary people who are doing extraordinary things.
TheToovells have a profound understanding of what it takes to help people reach their life long goals based on their first hand experinces. What most excites the Toovells? The fact that so many people who made the decision to join their team are earning all the benefits.. the cash.. the trips...the lifestyle. Would you like to take more control of your life? Would you like to develop a steady and ongoing stream of income on a part time basis that increases each year? Would you like to prosper rather than just get by in life? Join Team Toovell. Join Shaklee.